Bringing Equipment Services Together
BEST is a fully functional "End To End" integrated system that supports both NHS & Community Equipment services in one system (this has been the case since 2013 when we were accredited with the National Framework for Equipment Services). The application can cover the entire operation of any service or integrate with National & Local systems to provide a seamless software solution.
Our dedicated team of developers have a combined experience in this product alone of over 100 years and with over 100 installed sites we are also confident that we have the experience and the skills to improve any existing NHS or Social Care service.
Weekly development meetings and on-going product developments make our system stand out from the crowd and keep in-line with National Standards.
As our development is so fast paced we would always recommend taking a look at the latest version rather than a feature list which is usually one step behind!
If our customers request a new feature then this is added to our master copy and made available for all existing sites to use. Please take some time to review some of the many features listed below, or scroll down for an overview.
Features
Remote & Video appointment support.
Email invitations & text message reminders.
Comprehensite Batch clinics creation with template approach for ease.
Reschedule cancelled clinics.
Create appointments from Clinic records, client records or triage.
Visibility of all appointments at a clinic from an individual appointment and when creating new ones.
Record sending "Invitation to book" letters.
Record Appointment confirmation dates and method.
Reschedule appointments.
Repeat appointments.
Search for first clinic with available appointments on multiple selection criteria.
Reserve Slots. Book out a period during a clinic day so that appointments are not created – eg a 1 hour break for a staff meeting.
Record and analyse Reasons for cancellation of Appointments.
Partial Bookings.
Front Desk / Reception functions including barcode scan and touch screen support.
Record arrival and departure times in each department.
Notes held against each client to warn staff/ambulance authorities eg Diabetic/Oxygen Required etc.
Print ambulance booking forms in batches or on demand.
Record transport requirements and pickup addresses for specific appointments..
Alerts can be added to a clinic that show on each appointment created for that clinic.
Customisable Appointment letters.

BEST can also integrate with existing appointment systems where required.
Multiple Active addresses per client.
Retains Historic address details.
Multiple Service support from single client record including service specific registration & discharge.
Ability to split default equipment delivery, correspondence or any other address.
Trigger points on Discharge (appointment cancellations, equipment processing, letter stop etc.).
Integrated Postcode system allows multiple data sets to be regionalised.
Post code Extrapolation – automatically builds address lists for post code lookup.
Age calculation with custom banding options for analysis purposes.
Professional's link involved in Client Care.
National GP List integration with automatic update.
Automatic CCG Lookup including GP, Practice and area of residence.
Full diagnosis, disability and medical history.
NHS minimum data set and NHS number on all client related screens.
Auto duplication checks on client registration.
Search on any data element.
Sort on any data element.
Wildcard & Sounds like searches.
Quick Search functions (keyword) to screen.
Combined data sets (pulling multiple screens of data into user friendly views).
Letter writing and template support with seamless integration to Microsoft Office and all windows applications.
"QuickLink" Functions throughout the system to reduce clicks and increase performance.
Comprehensive Clinical Entry screens.
National Standards applied including tariffs where appropriate to the service.
Contemporaneous note taking with Auto Date Stamp and user audit.
Equipment decision making tools allowing rapid processing and minimal administration.
Spellcheck & Speech Recognition.
Complete document management functions including office integration, template support and paperless with direct scanning support.
Remote form completion for tablets and other remote devices.
Stock availability & request.
Catalogue lookup.
Purchase request.
Task & Diary management
Outcomes & Objectives supporting NWMF OAO, TOMs, GAS or WATCh
BEST includes a comprehensive clinical assessment system to support a complete Episode of care record along with historical case management and client priority management.
Directly linked to the equipment records for a complete client administration system.
Clinical notes are locked and protected upon submission to the system yet additional comments may be added at any time with date/time and entered details stamped automatically to create a complete contemporaneous record.
Any external documentation can be linked to the assessment making the system very future proof.
Record details of any trialled equipment and the Prescription. The prescription can be converted to a Works Order with no re-keying of data.
The detailed assessment screens allow input and update of GP, diagnosis and client measurements which automatically update the relevant screens in the database.
Use the partial booking feature to record the types of appointment the client is waiting for.
Record types of consent given by client and when. Set a review date if required. Attach documents related to the consent to client records
Complete clinical management integration throughout the system, with a vast selection of user roles the access can be authorised depending on the user's role.
Record face to face and non-face to face activity times, and produce meaningful reports with National Standard outputs & Tariff support as well as Personal Health Budgets.
Task entries provided through the system.
Ability to schedule and priorities tasks & messages internally and externally with outside contractors.
Staff itineraries, absences reservations etc.
Manual Diary entries in addition to entries created as the result of pre-keyed records throughout.
Reminders on screen and work lists from outputs
Ability to trace actions by user, client, provider or action type
Analyse actions within Episode Of Care
All file types supported with ability to attach to multiple screens
Links with Orders and Purchase Orders, prescription details, modification, drawings etc
Easy template creation & customisation of letters without the need for a developer
Addresses destination selection
Clinical and non-clinical documents are separated and appropriate access applied
Complete record stored of all letters sent
Scanning functions including direct scanning and automated bar code controlled paperwork
A secure link between Centre and approved repairer
256 bit Strong AES Encryption
Automated data transfer
Daily transfers of demographic, order and stock information
Records details of numbers of records transferred, imported, exported and updated
Allocation of tasks to Approved Repairer and vice versa with fully audited progress information
Automated update of GP data from NACS data set
Customisable interfaces with central purchasing systems
DBS trace (New NHS Tracing Service) including electronic deaths processing
Open Exeter Interface to National system
Production and export of stats for Limbless Statistics reporting
Integrated Change Control system
Customised Menus & custom access configurable by managers
User preferences for many functions including output preferences and diary options
Hundreds of custom application settings to allow for changes in practice or business rules
Speech recognition read – integrates with optional Dragon Medical software
Full customisable pick lists and trigger rules for data processing
Integrated LAN speed test software to accurately measure network speed between your workstation and Network drives
Multiple Platforms, Windows, Citrix, Terminal Server, PDA / Windows mobile, iPads and browser based access
Working Days control – you specify the working days and system reacts accordingly
You made it ! If you managed to get this far and understood all our features then thank you for taking the time although there is no substitute for actually seeing the system in action.  It is easy to list a feature on a web site or say it can be done but at Soft Options we do not employ sales people who promise the world and never fulfil.
The staff that demonstrate the system are key users and developers who share a wealth of experience and knowledge of the system and its capabilities.
Please don't just take our word for it, visit a few of our existing customers and see for yourself! Though not always possible 100% of the time we do our upmost to keep our customers happy and support them whilst also continuing to move the system forward in line with the ever changing NHS standards.
We have been developing health care solutions since 1991 and our latest and BEST product is the result of ideas and background knowledge gained over the years. Built from the 'ground up' development of the BEST system has been driven by ease of use whilst maintaining maximum workflow and control. BEST was introduced in April 2003 as part of our PASA National Framework approval. Since then over 60 sites have installed BEST with over 100 modules serving well over 1,000,000 patients.
National Standards
Our latest version (release 14) has been revised to match the exacting standards of the National Wheelchair Managers Forum and the all the clinical and operational standards required for NHS guidelines on Wheelchair provision.
Industry Standard Database Structure (Microsoft SQL).
Flexible and robust MS SQL provides a platform which will grow from a single user to hundreds without any software re-engineering. SQL has outstanding linking and integration with other applications and systems.
Industry Standard Reporting (Crystal Reports)
We provide a report dictionary with hundreds of predefined reports which can be tailored for any service as well as the ability to create and maintain your own reports, stats, charts and analysis. Export of data to all industry leading formats (Excel, MS Word, PDF, XML, HTML, Text, email, CSV etc) ensures the highest level of integration and communication with other systems where direct linkage is not possible.
We also adhere to the minimum data set and every NHS standard throughout the system.
Modular System
The system supports the integration of several services using a common Patient/Client record. Access to modules can be restricted and filtered to enable true interaction or individual services can be managed individually. The modules supported are :-
Wheelchairs
Prosthetics
Orthotics
Homeloans, Community Equipment, Joint Equipment Store
Orbital Prosthetics
Communication Aids
Environmental Controls
War Pensioners
Continence
Configurable to suit your service
The system although packaged has been designed at the outset to enable service selection and application control through pre defined switches. Hundreds of user selectable options enable customisation with minimal cost to exactly match any service requirements. We also offer as part of the systems delivery a level of customisation to your individual requirements.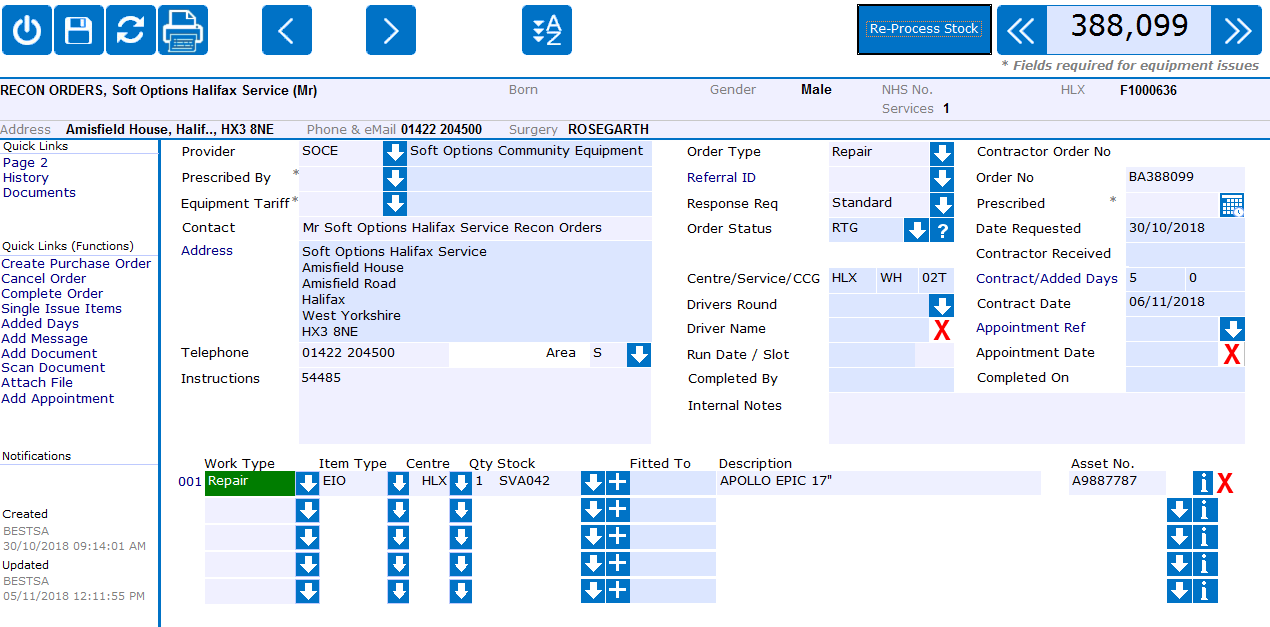 Links with Contractors
Robust and efficient links with external contractors where needed (Prosthetics, Wheelchair Approved Repairer, Orthotics contractors etc..). These links improve efficiency and minimise duplication to maintain and improve customer service. This feature will reduce delay and improve performance of the service and the approved repairer.
National Codes used throughout
We use National codes extensively throughout the system, some examples are
GP Codes driving PCT and Practice Codes
PASA Contract Codes and Prices
National Ethnic Origin Tables
NASDAB data set reporting
Complex and sophisticated yet simple to use
The system has been engineered under 'National Framework' guidelines to enable common and consistent access to the system data. Searching, sorting, filtering and selection is simple and yet incredibly flexible (search fields are not limited, a complex search can be made on any combination of visible field(s) i.e. Surname='Clegg', Forename = 'K*' – using wildcards and Postcode = 'HX*'). Data records are then delivered in record or 'table' view.
Related data (Orders, Equipment, and Notes etc) are available with minimal navigation and presented in a logical and efficient manner allowing cross checking and drill down to exceptional detail levels.
Pick Lists
The system makes extensive use of drop down pick lists for all static data. These lists are configurable and maintained by the service to ensure up to the minute control of all aspects of the system. Complex filtering pick lists assist new users for example to select stock by Group then Category and finally Product code to ensure reliable and easy selection of the correct items. Pick lists can be filtered, sorted and keyword searched where needed to further assist user selection.
Document Management
A highly sophisticated document management system is provided to link any Windows type documents to patient/client data. These types can include any document which will open using Windows (MS Word, Excel JPG Pictures, Adobe PDF, Movies, Sounds etc) as well as some specialised interfaces, for features such as FSA pressure monitoring and mapping images. Standard letters are created and merged from service created MS Word templates and stored for recall when required. Any number of additional templates can be added simply by the service at any time.
In 2011 we released a very powerful document scanner feature which will enable any document produced from BEST to be scanned back in with auto filling and even job completion!
Multiple screens allow direct access to the scanner so you can scan complete paper files against your client, incoming referrals, prescriptions and basically any kind or relevant documentation give you the ability to go totally paperless or at least very paper light.
Waiting List Management
Helping you strive for the lowest possible waiting list we provide multiple live reports to allow you to view and edit priorities on a pro-active basis. RTT (Referral To Treatment), RTA (Referral to assessment) and Care Pathway analysis are all provided as standard, sites simply choose the configuration to suit their local model.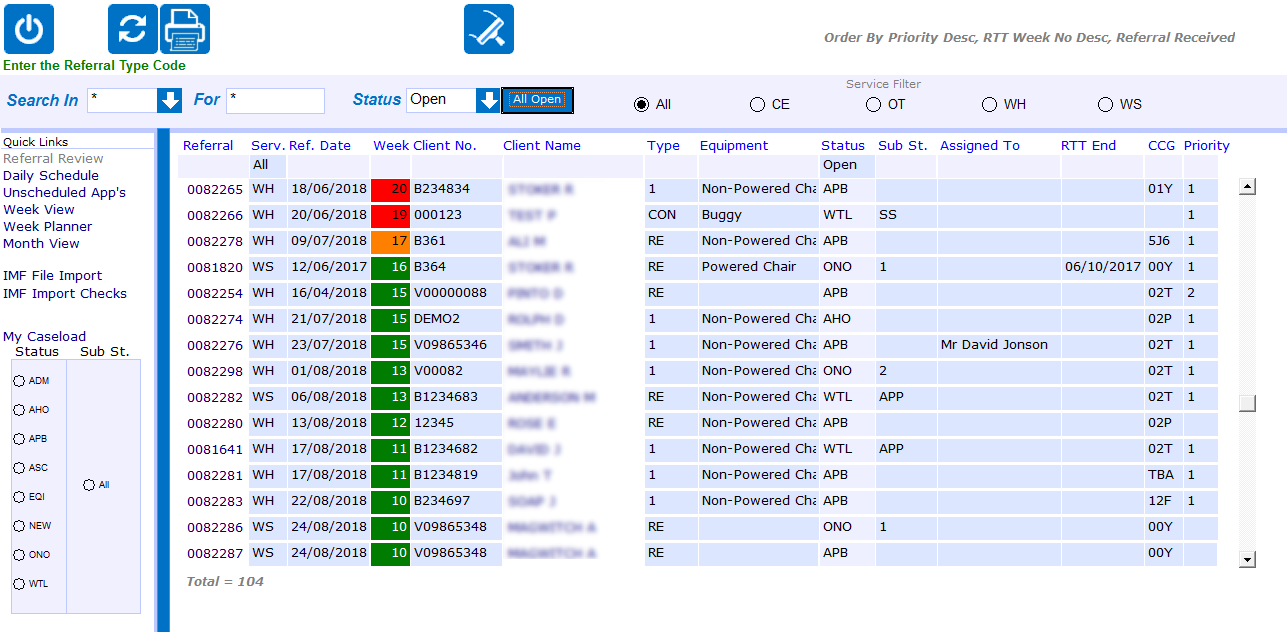 CIDS
In line with the standards required from April 2012, Version 14 supports the Community Information Data Set.
Consent 
The system is supplied with a comprehensive section to handle consent and all the regulatory requirements for all treatment given.
Stock Control 
Effective stock control will minimise expenditure and maximise service benefits to all its users. All aspects of stock from purchase order control to repair frequency and breakdown costs will produce supplier reliability assessments to ensure that items in service are of the best quality and value for money.
Risk Assessment & Minimisation
Identification and tracking of at risk patients and fast action when MHRA recalls or equipment rectifications will reduce risk to the patients and service.