What is Business Intelligence?
"The accumulation, analysis, reporting, budgeting & presentation of your business data".
We think of this as 'Data Visualisation'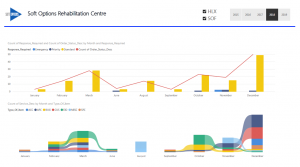 How can we help?
We can assist you with analysing your data and showcasing your stats and KPIs in a meaningful, visual manner using Business Intelligence. Initially we are offering this in the form of workshops, held at our office in Hipperholme, Halifax, where up to 10 delegates can attend a short session introducing them to the basics and to gain an understanding about how this can help them.
More advanced workshops will allow delegates to write their own reports and dashboards in conjunction with Soft Options which they are free to keep and use. We are looking to expand this offering over a wider geographical area to allow people (either existing customers or potential new ones) from all over the country to attend workshops.